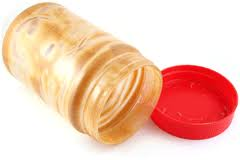 The elephant in the room is growing restless
curious and mischievous
how he opens the jars is mysterious
the cost of peanut butter is rising
as is the cost of trash bags
to collect the empty jars he leaves strewn about
They all say they see him too,
as they pat me on the head patronizingly
They see him in vibrant colors
but i know the elephant is truly only gray
They step in what he leaves behind him
do not see it
do not smell it
their feet slip on it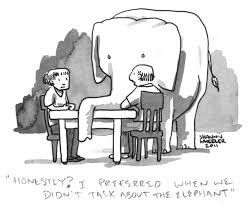 The eyes that hide behind the elephant's flankside
are amused
Flick half-hearted ineffectual prayers off of themselves
like just so many gnats or flys
A minor inconvenience
he seems to draw many wherever he goes
Tried to starve him out...
but he just goes over to the neighbor's house
where the front gate is left wide open
and the cost of feeding him is bankrupting them
It's a wilderness in the spaces between here and there
and he knows the well worn paths'
through the dark woods that now separate us
where the hidden stashes of peanut butter can be found
JESUS is in our front yard
by a picnic table beneath the shade of an old oak tree
spreading out a red and white checkered tablecloth
three cups, three plates lovingly placed before us
Jesus smiles His approval as we bow and kneel
in thanksgiving and praise
my brother, my sister and i
While, from the other side of a hedge
the elephant lets out an exasperated sigh
and slowly turns and lumbers away
only then do we notice
he has the tail of a lion
looking away somewhat puzzled
we see JESUS filling our cups to overflowing
our eyes...
now flooded with light
And...
What has become of our beloved neighbors?
Well...unfortunately, they are at their wits end
and the elephant...
grows larger
day
by
day.

-----------------------------------------------------------------------------------------------------------------------------------------------------------

The Peanut Butter Boy


One day, Eaglet's mother told him to take the garbage cans out to the curb so the garbage men could empty them, and to please remember to put the lids on tightly to make sure the dogs didn't get in the trash. Eaglet took the cans out, but ran off to play with his friends...never stopping to put the lids on securely. A couple of hours later, Eaglet came home. He found papers, watermelon rinds, and other trash all over the yard.

How do you think he felt? Because he disobeyed his mother, Eaglet felt unhappy. He knew that by doing something wrong, it was as if he had dirtied his spirit. (Smear some peanut butter on Eaglet.)

Eaglet sometimes helped his mother with work around the house. He really tried to be good, but sometimes it was difficult. One time he and his brother both wanted to play with the same toy. They yelled at each other and hit one another. Eaglet won because he was bigger, but he had hit his brother and hurt his arm.

What did Eaglet do that was wrong? What do you think happened to Eaglet's spirit when he did this? (Smear some more peanut butter on Eaglet and explain that his spirit doesn't look very good any more because it has been smudged even more.)

One day, Eaglet left school late. As he was leaving, he noticed how cold it was getting. He saw a scarf hanging on a hook by the door. It would help to keep him warm on the way home. Eaglet took the scarf. He knew it was not his, but no one saw him take it, and he could return it the next morning.

What was Eaglet doing wrong? Because he was borrowing something that belonged to someone else, without asking, he was adding another smudge on his spirit. (Add some more peanut butter).

The next morning Eaglet had to hurry to school, and he forgot the scarf. The teacher told the class that a scarf that belonged to one of the children was missing. She asked if anyone knew where it was. No on said a word. Eaglet felt bad because he had taken the scarf and had forgotten to return it. After the other children left, the teacher asked Eaglet if he had seen the scarf. Eaglet did not want anyone to know what he had done, so he told her he had not seen it.

How did Eaglet make his problem bigger? How is Eaglet feeling now? By lying, Eaglet made himself unhappier. (Smear more peanut butter on the boy).

None of the smears that are on Eaglet's spirit are too dirty for Eaglet to clean up. How can Eaglet feel happier and clean his spirit? (By repenting).

To clean his spirit, Eaglet needs to repent for disobeying his mother. What must he do to repent of this? (Go through the steps of repentance relating to this mistake. Clean away some of the peanut butter from the boy).

What must Eaglet do to repent for being unkind to his brother? (Go through steps of repentance and remove more of the peanut butter).

How can Eaglet repent for borrowing something without asking? (Go though the steps of repentance and remove more of the peanut butter).

What must Eaglet do for not telling the truth? (Go through steps of repentance and remove the remaining peanut butter).

How do you think Eaglet felt after he repented of his mistakes? How did repentance change Eaglet's spirit? When we repent, we free ourselves of sad feelings and we make our spirits clean and pure like they were when we first came to earth when we were born.